Inside the latest version of Gucci's travelling Cosmos exhibition, offering an immersive exploration into the houses past, present and future.
Following its successful debut in Shanghai this past April, the exhibition has now made its way to London, where the iconic 102-year-old fashion house has transformed 180 studios within 180 Strand. Gucci's first major London exhibition, expertly curated by renowned fashion critic Maria Luisa Frisa and designed by British artist Es Devlin, will run from 11 October until 31 December before it moves to Paris, and later Kyoto.
The London location holds a distinct and significant place in Gucci's rich heritage. The Cosmos exhibition is located just mere steps from the Savoy hotel, where ironically the founder Guccio Gucci was first inspired to start his luxury luggage atelier during his tenure as a porter there in the late 1890s. To pay homage to this, the London rendition of the cosmos exhibition commences with an intricate reconstruction of the late 19th century Savoy lobby, complete with the iconic black-and-white marble flooring and a replica of the hotels renowned red lacquered lift – famously the first electric lift in London. Visitors can then step out of this lift and proceed to explore the remainder of the exhibition's further immersive rooms and unfolding Gucci worlds.
Embarking on this captivating journey, you step out of 'The Ascending Room' via the iconic lift and find yourself transported into 'Portals.' Here, a trio of all-white, circular rooms awaits, each featuring rotating carousels that unveil a dreamy array of Gucci's historical and contemporary trunks, suitcases, and hat boxes. This mesmerizing display pays homage to the brand's travel origins, setting the stage for the adventure ahead.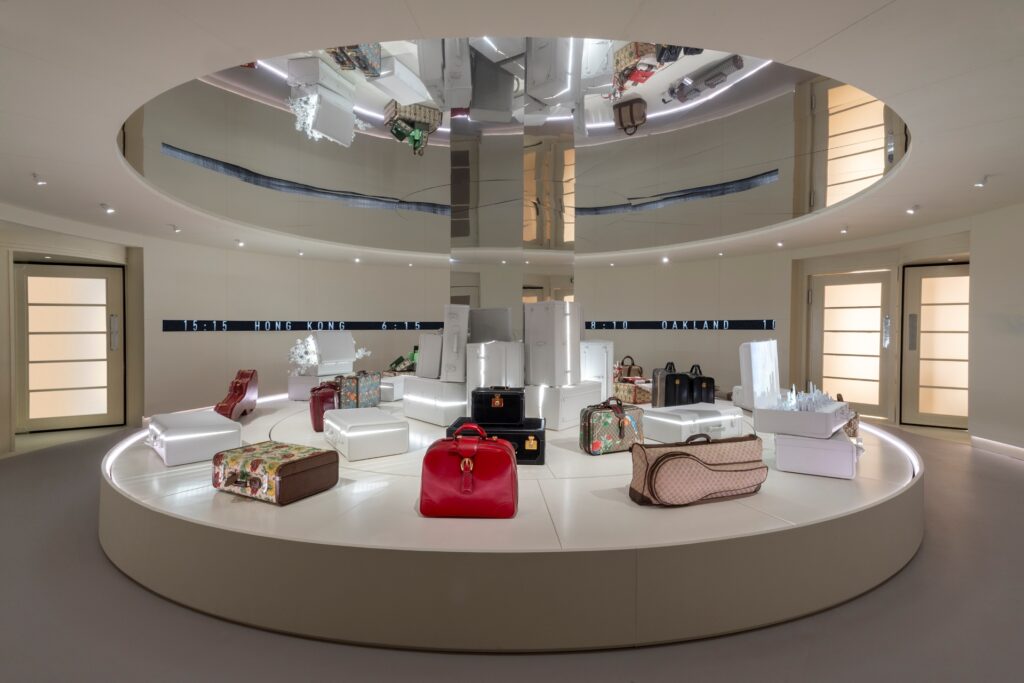 Continuing along the path of exploration, 'Zoetrope' emerges as a captivating room, a celebration of Gucci's equestrian heritage. Here, classic horsebit bags and loafers, both from the archives and contemporary designers, come to life beneath the dynamic projection of life-sized horses galloping throughout the space.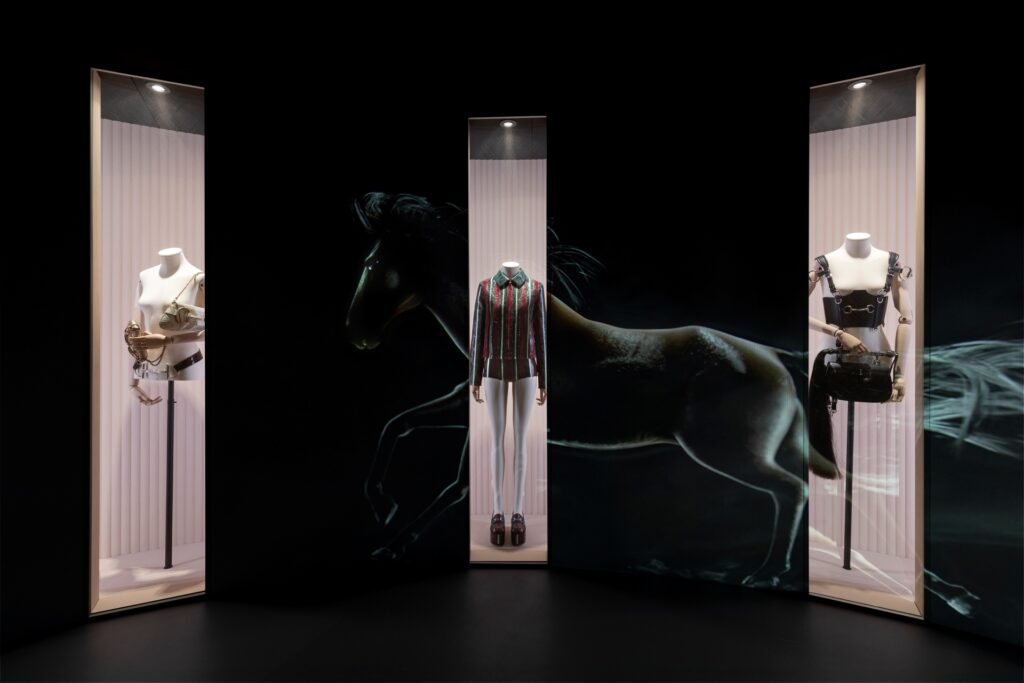 Next, 'Eden' offers a serene oasis, an enchanting and delicate space adorned with captivating displays of vibrant flora and fauna prints from the 1960s, drawing you into nature's embrace. In 'Two,' you'll come face to face with two imposing white figures, brought to life with illuminated projected outfit ensembles, creating a truly distinctive and immersive fashion viewing experience.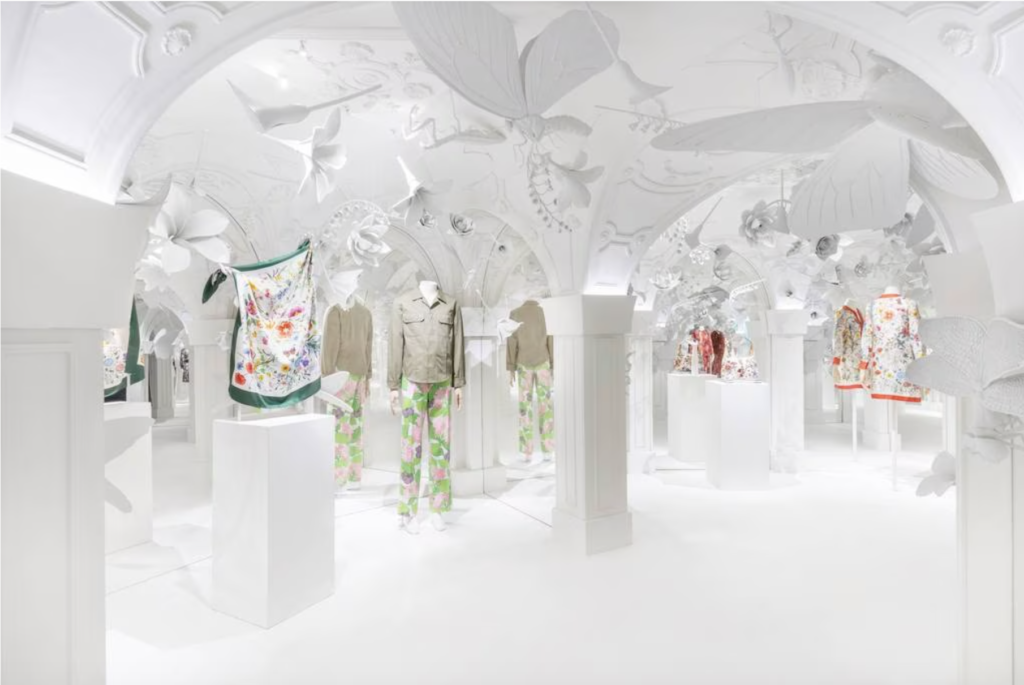 Your next destination is a blinding, blue mirrored chamber, home to an exquisite collection of the most iconic handbags and previously unseen archival treasures in 'Archivo'. Here, time seems to stand still as you immerse yourself in the rich history of Gucci's design evolution.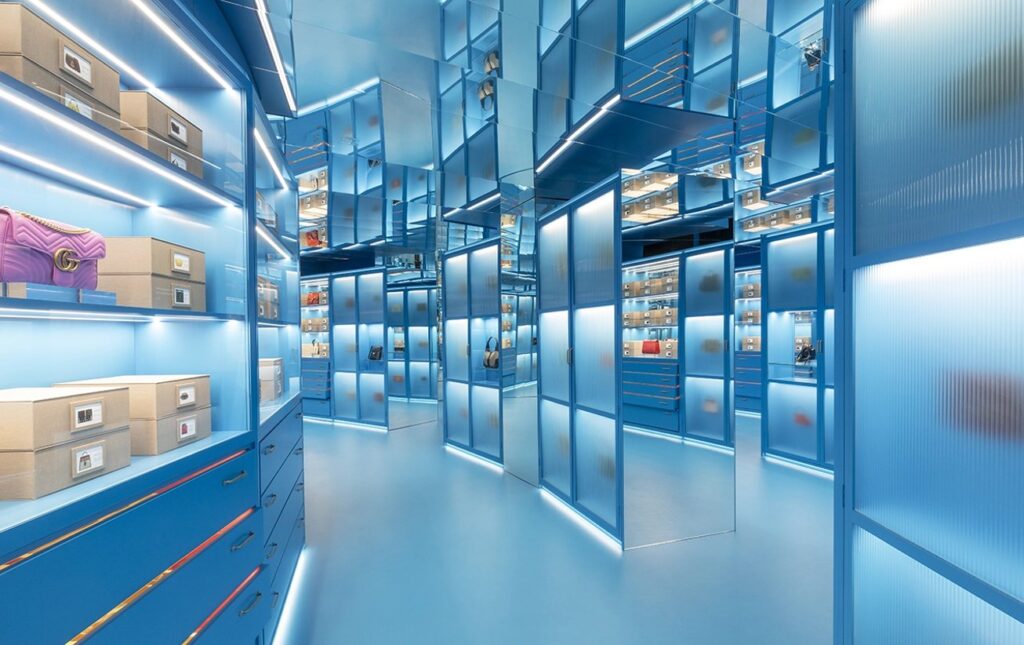 In the penultimate room, 'Carousel,' a curated collection of Gucci's most iconic looks awaits. Among these treasures, you'll find Tom Ford's renowned red velvet suits, famously worn by Gwyneth Paltrow at the 1996 VMA's. Your journey reaches its crescendo as you bask in the brilliance of Harry Styles' legendary rainbow disk Coachella look and can even marvel at a fine silk scarf – a remarkable creation crafted in just 24 hours for Princess Grace of Monaco.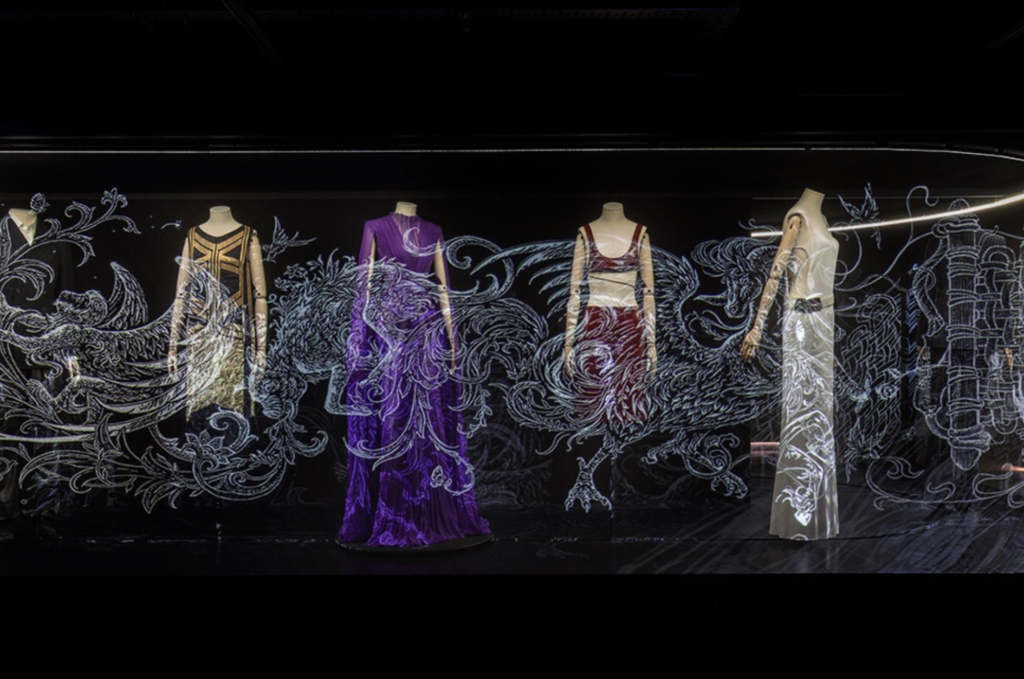 The grand finale awaits in 'Gucci Ancora,' a dedicated space honouring the brand's most recent creative director, Sabato De Sarno. Visual collages of the Italian designer's inspirations beckon, offering an exciting glimpse into the future direction of the brand—a fitting conclusion to a journey that has taken you through the heart and soul of Gucci's rich history and promising future.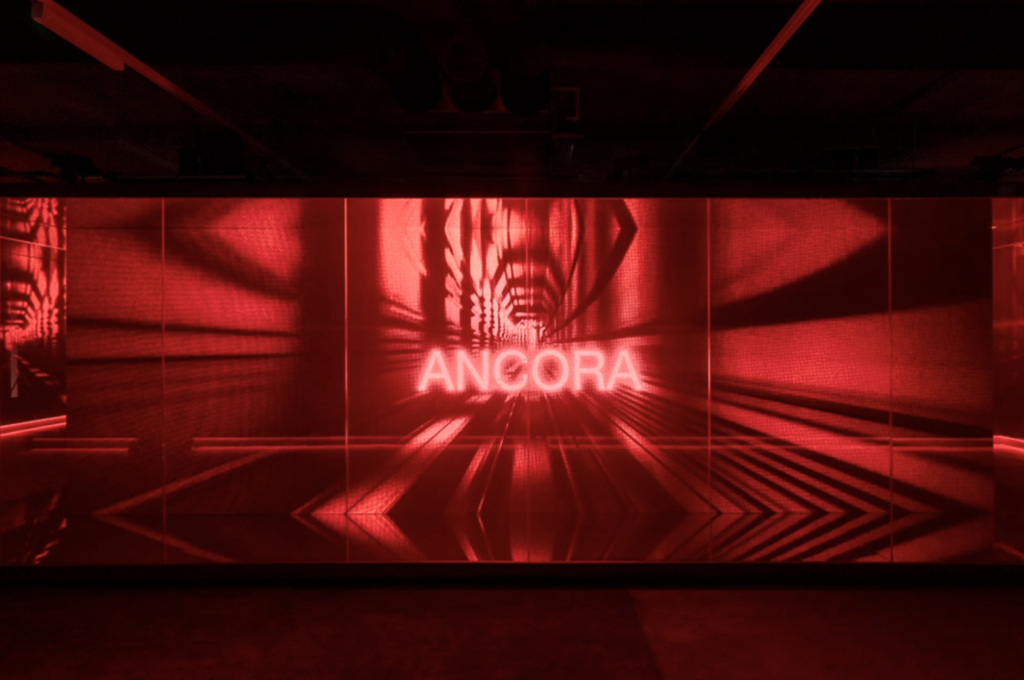 The Gucci Cosmos exhibition is an absolute must-visit, offering an immersive experience through Gucci's rich history and creative evolution, captivating visitors with its innovative displays and thought-provoking installations. It seamlessly blends the past and present, showcasing the brand's enduring commitment to pushing boundaries and redefining luxury. So, step into the cosmos of Gucci and let this exhibition ignite your imagination and sense of fashion wonder and don't pass up the opportunity to visit as it makes its stop in London during its traveling tour.